Foam Parties

Foam Parties: Unleash the Fun and Excitement! Get ready to dive into a world of frothy fun with our incredible Foam Parties! Whether you're hosting a birthday bash, corporate event, or simply want to add a unique twist to your gathering, our foam party supplies will take your celebration to the next level.

Imagine a dance area covered in a thick layer of fluffy foam, creating an atmosphere of pure joy and exhilaration. Our high-quality foam machines are designed to produce an abundance of foam, transforming any space into a foam-filled wonderland. With adjustable settings, we control the foam intensity to suit your preferences, ensuring an unforgettable experience for everyone.

Our foam party accessories are designed to enhance the excitement. From foam cannons that shoot out streams of foam we have everything you need to create an immersive foam adventure. Our foam solution is non-toxic and hypoallergenic, ensuring a worry-free experience for all partygoers.

Foam parties are not just for kids – they're a hit with people of all ages! Whether you're planning a summer party, a school event, or a nightclub extravaganza, our foam party products will keep your guests entertained and engaged. The sensory experience of playing in foam is unparalleled – it's like being in a giant bubble bath, but with a party atmosphere! Not only do foam parties create an atmosphere of fun and excitement, but they also provide a unique opportunity for social interaction and bonding. Friends and family can let loose, dance, and play together, creating lasting memories and forging stronger connections. The joy and laughter that come with a foam party are infectious, leaving everyone with a smile on their face.

At Osseo Rents, we are committed to providing the highest quality foam party supplies to ensure a safe and unforgettable experience. Our knowledgeable team is here to assist you in selecting the right products for your event to make it one to remember!

So, what are you waiting for? Dive into the world of foam parties and make your next event an unforgettable one. Get in touch with us today and let the foam-filled adventure begin!
Foam Party Osseo WI
Choose Osseo Rents for the foam party Osseo WI uses to create unforgettable memories! We're the go-to party rental company to complete your foam party extravaganza. Why settle for a regular party when you can turn it into a foamy adventure? Osseo Rents is the ultimate destination for foam party rentals in Osseo, Wisconsin , that will take your event to the next level of excitement. Our foam machines are designed to create a frothy foam that will cover your guests in a cloud of bubbly fun.
We've got the foam party Osseo WI knows is perfect for all occasions! Whether it's a birthday celebration, a graduation party, a corporate event, or just a fun gathering with friends, our foam party rentals will add a unique and thrilling element to your event. Imagine the laughter and joy as your guests dive into the foam, creating a playful and interactive atmosphere that will be talked about for years to come.
Booking your foam party rental with Osseo Rents is a breeze. From a rainbow-colored foam party for a toddler's backyard birthday bash to a glow-in-the-dark foam celebration for recent graduates, we have the perfect solution to suit your party planning needs. Simply click on the "Book Now" button to access our user-friendly online booking system. Choose the date and time of your event, provide your contact information and event location, and proceed with the secure online payment process. It's that easy to book a foam party Osseo WI and surrounding areas will love. Choose Osseo Rents and get ready to immerse yourself in a foamy wonderland of fun and excitement. Let the foam-filled adventure begin!
The Foam Party Rental Osseo WI Uses to Add Fun to Events Year-Round
Get ready to take your events to the next level with the best foam party rental Osseo WI has to offer! Our foam-filled extravaganzas are the talk of the town, bringing a unique and thrilling twist to various occasions, including birthday celebrations, graduation parties, baby showers, high school class reunions, business grand openings, and so much more.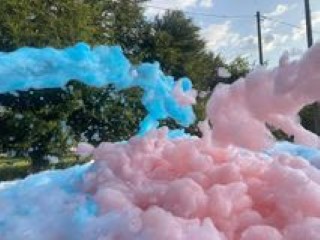 Foam parties are always a hit at birthday parties, infusing the festivities with a playful and interactive atmosphere. Watch as kids and adults alike dive into the foamy wonderland, laughing and splashing around, creating unforgettable memories that will be cherished for years to come. Pair your foam party with the bounce house rental Osseo WI can't get enough of for non-stop birthday fun! Graduation parties become even more epic celebrations with our foam equipment. Celebrate this milestone in a foam-filƒled style as graduates and their friends dance and frolic in the foam, letting loose and having a blast.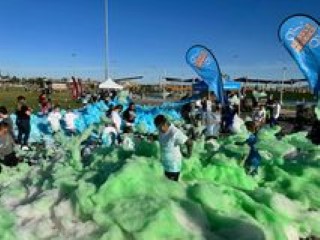 Corporate Events Become Unforgettable Experiences with the Adult Foam Party Osseo WI
chooses to bring all the fun. Break away from the traditional and bring a fresh and exciting element to team-building activities, company picnics, or office parties. The foam adds a sense of camaraderie and adventure, fostering connections and leaving a lasting impression on attendees. Local festivals and community gatherings are elevated to new heights with foam parties. From music festivals to street fairs, the foam adds an element of surprise and delight, drawing crowds and creating an energetic and captivating ambiance.
No matter the event, we've got the foam party rental Osseo WI knows is designed to create a thrilling and immersive experience for everyone involved. With the ability to customize the foam density and duration, we ensure that your event is tailored to your preferences. Prepare to make a splash and create a buzz with our foam parties. Let our team transform your event into an unforgettable celebration filled with laughter, joy, and foamy memories that will leave your guests raving about the experience. Choose Osseo Rents for your foam party needs and immerse yourself in a foam-filled adventure that will make your event the talk of the town!
FAQs About the Foam Parties Osseo WI Can't Get Enough Of
If you have questions about the foam parties Osseo WI can't get enough of, we've got you covered with our extensive FAQ section! Read through our frequently asked questions below and get in touch with our team by giving us a call at (715) 502-2520 if you have any additional questions.
Q.
Is the foam material safe?
A.
Our foam is biodegradable, hypo-allergenic, and backyard safe! Scent-free, it will not even bother the most sensitive of noses. We're the safest foam party for kids Osseo WI parents can trust. Family dogs can even get in on the party, as our foam is pet and lawn friendly.
Q.
What if I have a large party?
A.
Our foam parties can be scaled to fit the crowd. For big events, this is it! We can crank up the tunes to get everyone to dive in and enjoy the fun! Foam is fun for all ages. Young and old, kids of all ages will have fun when you host a foam party event in Osseo, WI!
Q.
Is it easy to clean up?
A.
Our foam is biodegradable, so the wind, rain, and natural filters will take care of the mess for you long after the smiles are gone! If you've been searching for a safe and affordable "foam party near me Osseo WI," you're in the right place.
Exciting Foam Party Supplies Osseo WI Can't Get Enough Of
Get ready to be blown away by the foam party supplies Osseo WI knows and loves! Our outstanding selection is causing a splash among our customers in Osseo, WI, and their testimonials speak volumes about the excitement we bring to any occasion, big or small. We're proud to have earned the repeated business of so many loyal customers and strive to exceed expectations with each and every successful foam party. Take a look at what our happy customers have to say about working with our team and schedule a delivery online today!
What Customers are Saying
"What a hit! Osseo Rents made our campground event a complete success. Kids have already been begging to do it again."
- Shiela A.
"Osseo rents was absolutely great to do business with! They provided clean, safe and affordable entertainment for kids at our local 4th of July celebration."
- Niki S.
"Renting from Osseo Rents was so simple. Their website was easy to navigate and they even reached out to me to see if I had any questions."
- Becky H.
Previous
Next