Bounce House Rental Osseo WI
Book the bounce house rental Osseo WI knows and loves from our experienced and friendly team! Bounce your way into a world of fun and excitement with Osseo Rents, the ultimate destination for bounce house rentals in Osseo, Wisconsin , and the surrounding areas of Trempealeau County. Buckle up and prepare for a bouncy adventure like no other!
At Osseo Rents, we prioritize safety above all else. Our bounce houses are made from high-quality materials, regularly inspected, and meticulously maintained to ensure a worry-free experience for you and your little ones, making us the bounce house rental Osseo WI parents and event planners trust. Safety is our foundation, and fun is our game!
Our user-friendly website allows you to browse our extensive selection of bounce houses, check availability, and secure your reservation in a few simple clicks. We believe that party planning should be stress-free and simple, so our team is here to make reserving equipment as easy as possible. Whether you're hosting a birthday bash, a neighborhood gathering, or a school event, book the bounce house rental Osseo WI trusts to elevate any party to new heights. Get ready to bounce, giggle, and create memories that will make you jump for joy!
Use Bounce House Rentals in Osseo WI, to Jazz Up Every Event
Get ready to bounce your way to a world of endless excitement with the best bounce house rentals in Osseo WI! Our bounce houses are the perfect addition to a variety of events where fun is the main attraction. These inflatable wonders are versatile and adaptable, ensuring that the bouncing adventure never ends for your entire guest list.
Birthday parties come alive with the addition of our bounce houses. Watch as the birthday boy or girl and their friends leap with joy, bound with boundless energy, and giggle uncontrollably. Our bounce houses create an atmosphere of pure delight, turning any birthday celebration into an unforgettable extravaganza.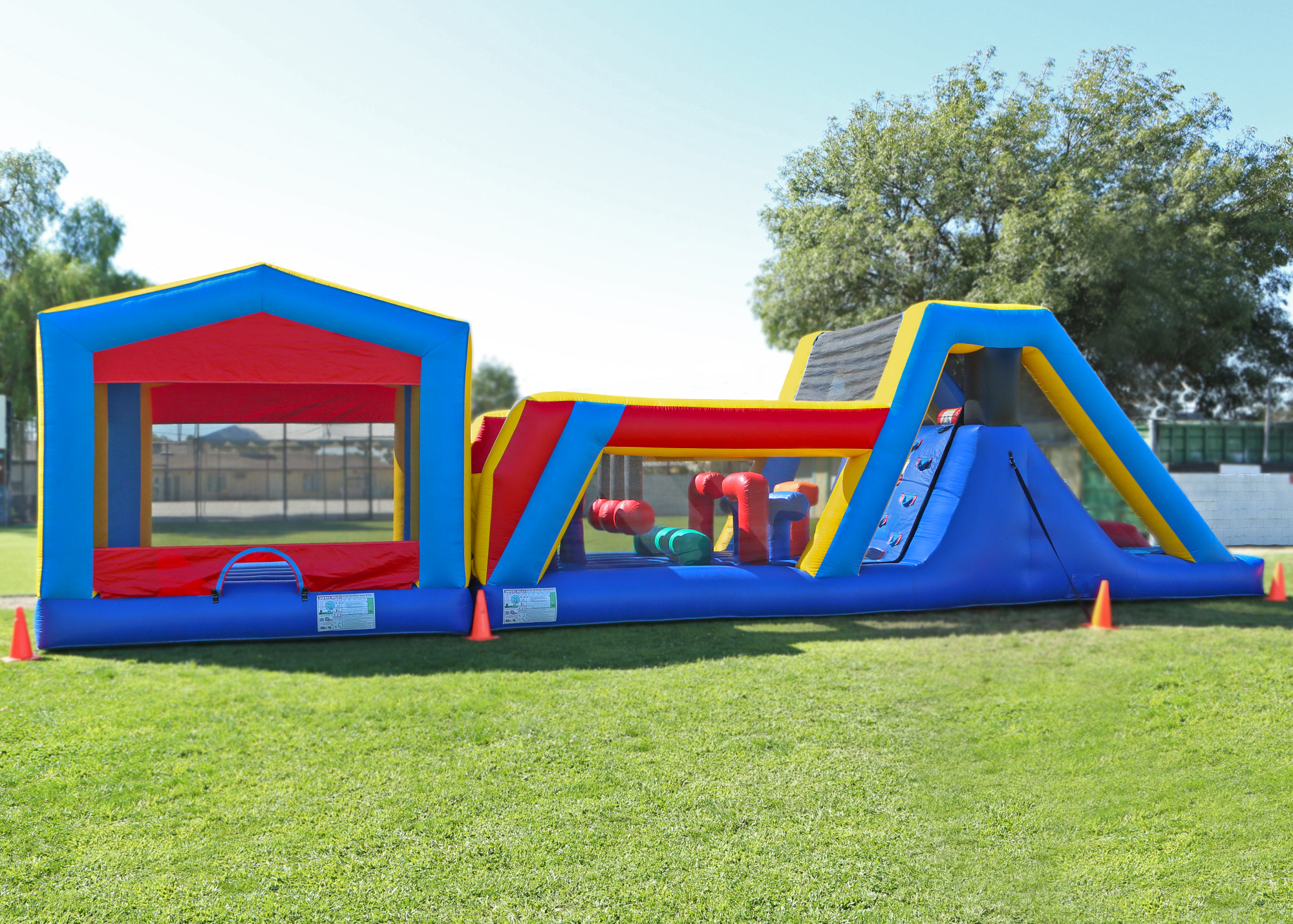 Community festivals and fairs become the talk of the town with our bounce house rentals in Osseo WI. Children and adults alike will be drawn to the colorful inflatables, eagerly lining up for their turn to bounce and play. Whether it's a neighborhood block party or a large-scale community event, our bounce houses add a dose of excitement that will keep everyone entertained for hours.
School events are taken to new heights of fun with our bounce houses and interactive games. From field days to carnivals, our inflatables become the centerpiece of laughter and friendly competition. Students can jump, slide, and bounce to their heart's content, fostering a sense of camaraderie and creating memories that will last well beyond the school years.
Corporate picnics and team-building events get a boost of energy with our bounce houses. Let colleagues unleash their inner child, break down barriers, and connect on a whole new level. Our bounce houses provide a refreshing break from the office routine, injecting a sense of fun and adventure into corporate gatherings.
No matter the occasion, Osseo Rents' bounce houses will elevate the fun factor. Whether it's a birthday party, community festival, school event, or corporate gathering, our inflatables guarantee hours of laughter, excitement, and pure bouncing joy. Book the top-rated bounce house Osseo WI has to offer, and let the fun begin!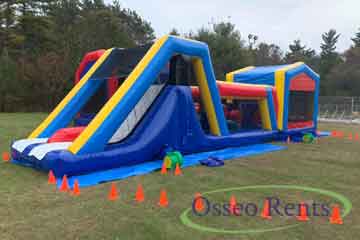 The Fun Bounce House Osseo WI Kids And Adults Love
Get ready to dive into the fun bounce house Osseo WI kids and parents can't get enough of! It's a world of bouncing bliss with our incredible selection of bounce house rentals. We're here to turn your event into an unforgettable bouncing adventure that will have everyone smiling from ear to ear. With everything from simple and small bounce houses to the combo bounce house water slide rental Osseo WI uses to beat the heat and have fun in the sun, our bounce house rental selection is nothing short of extraordinary, offering a wide range of options that cater to all ages and preferences.
Spice up any party with our Large Wacky Bounce House! Whatever the occasion, this is the ideal way to keep guests entertained. The bright colors are sure to bring your party to life. Bounce without fear of snagging your fingers on the mesh thanks to the durable, tear-resistant vinyl. The inflatable's low, easily-zippered entry makes it suitable for even the tiniest of jumpers. The Large Wacky Bounce House allows around eight kids to bounce together. The price starts as low as $294.00 for six hours of rental time!
For the smaller kids, the Little Jumper Bounce House is sure to be a hit at your party for kids of all ages. The design's cheerful use of red and blue will complement any celebration you're throwing. The perimeter net will keep your children safe and make it simple to keep an eye on them. The little ones can hop right in thanks to the child-friendly inflatable entry ramp. The Little Jumper has all the necessary safety features to make your event a success and is of the highest commercial-grade quality.
How To Rent a Bounce House Osseo WI Can Count On
If you're wondering how to rent a bounce house Osseo WI partygoers love, we make the process as simple and straightforward as possible. Experience the ultimate convenience of booking your favorite bounce house from Osseo Rents! Through our seamless online process, you can browse available options, add equipment to your cart, and check out in a few easy steps. Our website is the place to explore our incredible selection of bounce houses, featuring vibrant colors and exciting themes. Once you've found the perfect bounce house, simply click on the "Book Now" button to rent a bounce house Osseo WI attendees of all ages will enjoy by accessing our user-friendly online booking system.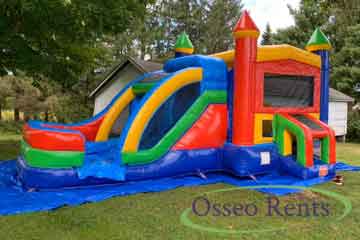 Choose the date and time of your event, add the bounce house to your cart, and ensure its availability for your desired event date. Provide your contact information and event location, and feel free to include any special requests or additional services. Double-check your order details and proceed with the secure online payment process. Once your booking is confirmed, you'll receive a confirmation email containing all the important information, and one of our team members will be in touch to confirm a drop-off window that works best for your schedule.
Our dedicated team will handle the delivery and setup of your bounce house, ensuring it's ready for a bouncing extravaganza on your event day. With our online booking, reserving the perfect bounce house for the bounce house party Osseo WI will never forget has never been easier. So, jump online, select your bounce house, and prepare for an event filled with boundless fun, laughter, and cherished memories!
Delivering the Indoor Bounce House Osseo WI and Surrounding Areas Use Year-Round
At Osseo Rents, we are thrilled to bring the outdoor and indoor bounce house Osseo WI depends on right to your doorstep. Our reliable delivery service ensures that you can enjoy our fantastic bounce houses no matter where you are across Trempealeau County, including the 54758 zip code and the neighboring cities of Arcadia, Augusta, Black River Falls, Eau Claire, Eleva, Fall Creek, Independence, Pigeon Falls, Strum, Whitehall, and other areas.
We're proud to partner with various local organizations and venues to bring the indoor bounce house Osseo WI chooses for fun and excitement to the whole community. Osseo-Fairchild School District can rely on us to enhance their school events, field days, camps, and celebrations. Stoddard Park and Lions Park provide the perfect settings for outdoor festivities, and our bounce houses add that extra spark of entertainment. Add all of the party essentials to your cart to ensure an unforgettable outdoor experience, including a generator, concessions, tents, and other party equipment. As your one-stop party shop, we have everything you need to host an enjoyable event, no matter what the special occasion is!
There's no shortage of things that make our city wonderful, including Northwoods Brewpub, Osseo Golf Club, and Justorian Alpacas. We're proud to be a reliable small business in Trempealeau County that continues to watch our city flourish by helping throw fabulous and festive events throughout town. With Osseo Rents, you can count on our exceptional delivery service, professionalism, and commitment to customer satisfaction. We strive to make your event unforgettable, whether it's a school function, community gathering, or private celebration. Let us bring the bouncing joy to your location so you can focus on creating cherished memories with family, friends, and colleagues.
FAQs About Our Osseo WI Bounce House Selections
Looking for answers to your questions? Look no further than our comprehensive Osseo WI bounce house FAQs! We understand that when it comes to bounce house rentals and event planning, you may have some questions or need more details before finalizing your reservation. Read through our FAQs below and get in touch with our team if you need any additional information by giving us a call at (715) 502-2520.
Q.
How much does it cost to rent a bounce house in Osseo?
A.
Our prices vary depending on the style of the bouncer, the rental timeframe, and the delivery address. We're confident we offer the most cost-effective Osseo WI bounce house options in the area! Our Large Wacky Bounce House and Little Jumper both begin at $245 for up to six hours of rental time.
Q.
Are bounce houses safe for all ages?
A.
Our inflatable bounce houses are safe for ages three and up with adult supervision. All of our units are made with fire-resistant, lead-free vinyl and include the latest safety features, like an inflatable ramp for easy entry and exit, mesh walls for supervision and airflow, and a velcro entryway to make sure your little jumpers stay safe in the unit.
Q.
How do I reserve a bounce house rental?
A.
We offer two convenient options for scheduling a bounce house from Osseo Rents: give our team a call at (715) 502-2520 to speak directly with one of our team members, or use our state-of-the-art online booking system to browse our available options and schedule your rental directly from your smartphone or Internet-connected device! Booking Osseo WI bounce house rentals has never been easier!
5 Star Reviews for Our Osseo WI Bounce House Rental!
Book the Osseo WI bounce house rental that our customers give 5 stars! Our ecstatic customers have shared their enthusiasm, applauding our exceptional service, top-quality inflatables, and the unforgettable memories we've helped create. From epic birthday bashes to spirited school events, our inflatables have been hailed as the life of the party, spreading smiles and laughter to all attendees. With glowing reviews emphasizing our professionalism, punctuality, and unwavering commitment to safety, you can have complete confidence in Osseo Rents for an extraordinary and worry-free celebration. Take a look at a handful of our 5-star ratings below and book an Osseo WI bounce house rental online today!
What Customers are Saying
"I cannot say enough about Kirk and the entire team at Osseo Rents! I needed inflatables at the last minute and they were absolutely fantastic to work with!"
- Jeanine E.
"Would highly recommend. This was an amazing addition to our daughter's birthday party and it was a hit with the kids."
- Nicole H.
"These guys were awesome to work with, set up was easy and the kids loved it. The bouncy house was much bigger than we thought it would be! Would definitely use again."
- Doug H.
Previous
Next