Glow Foam Party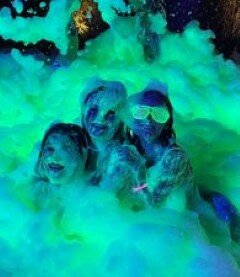 Monitors: Min 1 adult
Outlets: 1
Age Group: 4 and up
Description
Take your foam party to the next level and make it GLOW! That is right folks, watch the fun and magic come to life in UV Color!
Check it out!
Get ready to light up the night with our incredible Glow Foam Party! This unique and exhilarating event is guaranteed to leave your guests glowing with excitement.
Our Glow Foam Party is perfect for all ages and occasions, from birthday parties and corporate events to college gatherings and music festivals. We bring the party to you, transforming any space into a vibrant and energetic foam-filled wonderland.
As the foam begins to flow, it instantly comes to life with a mesmerizing glow. Our specially formulated foam solution is infused with UV-reactive agents, creating a stunning visual effect under blacklight. The foam glows in vibrant neon colors, adding an extra layer of excitement to the already exhilarating experience.
Not only is our Glow Foam Party visually stunning, but it also provides a one-of-a-kind sensory experience. As guests dance and frolic in the foam, they'll feel the soft and luxurious texture against their skin. The foam is non-toxic, hypoallergenic, and gentle on the eyes, making it safe for everyone to enjoy.
To enhance the experience, we offer a range of additional options such as UV body paint stations, glow sticks, and neon accessories. These extras allow guests to fully immerse themselves in the glowing atmosphere, creating unforgettable memories and photo-worthy moments.
Our professional and experienced team will handle all the setup and cleanup, ensuring a hassle-free experience for you and your guests. We use top-of-the-line foam machines and equipment to guarantee a consistent and high-quality foam flow throughout the event.
So, if you're looking to take your event to the next level and create a truly unforgettable experience, book our Glow Foam Party today. Get ready to dance, laugh, and glow like never before!