Water Slide Rental Osseo WI
Book the exciting water slide rental Osseo WI uses to make the big splash from Osseo Rents! We're the ultimate choie for water slide rentals that will make your event a watery wonderland of fun and excitement! Prepare to slide into a world of laughter, joy, and unforgettable memories. Osseo Rents is the go-to party rental company in foam party Osseo WI for water slides that will make a splash at your event. Our selection of water slides is like a tropical oasis, with towering slides, refreshing splash pools, and twists and turns that will have you screaming with delight.
Planning an outdoor birthday bash? Book the water slide rental Osseo WI trusts to bring excitement to your child's face as they slide down a thrilling water slide, surrounded by their friends and soaking up the laughter. It's a recipe for a memorable celebration that will make your child's party the talk of the town. But it's not just for kids! Pick the best adult water slides Osseo WI has in store with our expansive selection. Our water slides are perfect for all ages, from young ones to the young at heart. Picture yourself racing down a dual-lane slide, challenging your friends to see who can reach the bottom first. Relax and enjoy a leisurely ride down a winding slide, feeling the cool water splash against your skin. It's a refreshing escape from the heat, no matter the occasion!
Book the top-rated blow-up water slide Osseo WI has to offer using our convenient, state-of-the-art online booking system. Our waterslides are designed with safety features to ensure a worry-free experience for all participants. We regularly inspect and maintain our inflatables, so you can have peace of mind knowing that you're sliding on high-quality and well-maintained equipment. Booking the water slide rental Osseo WI party planners prefer is a breeze. Our user-friendly website allows you to browse our selection, check availability, and secure your reservation in just a few clicks. We believe in making party planning as smooth as sliding down one of our high-quality water slides. We've mastered aquatic adventure; we're the creators of laughter-filled memories and the ultimate destination for wet and wild fun. Get ready to make a splash, laugh uncontrollably, and create memories that will make a big splash in your heart!
Water Slide Rentals Osseo WI Uses to Add Fun to Any Event
Get ready to beat the heat with the best water slide rentals Osseo WI has in store! Elevate the excitement at your next birthday bash, community festival, school field day, or graduation celebration with Osseo Rents' exhilarating water slide rentals! Our fantastic selection of inflatables is perfect for various events where a refreshing splash is the order of the day.
Summer parties become the highlight of the season with our water slide rentals. Whether it's a backyard barbecue, a poolside gathering, or a community block party, our water slides provide the ultimate entertainment. Feel the adrenaline rush as you zoom down the slippery slopes, plunge into the cool water, and emerge with a big smile. School events turn into aquatic adventures with water slide rentals Osseo WI teachers and staff can count on. From end-of-year celebrations to field days, our water slides add an exciting twist to the festivities. Students of all ages can experience the thrill of sliding and splashing, creating memories that will last a lifetime.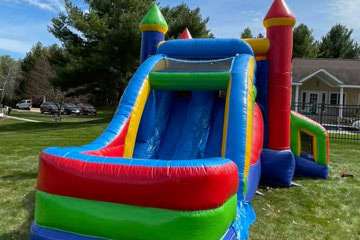 Corporate picnics and team-building events get a refreshing boost with our water slide rentals. Take a break from the boardroom and enjoy the fun with your colleagues. It's a fantastic way to bond, let loose, and create a memorable experience outside the office walls. Community festivals and fairs become a splashing success with the inflatable rental water slides Osseo WI event planners rely on. Watch as families and friends line up for a thrilling slide, shrieking delightfully as they land in the pool below. Our water slides are a surefire way to keep everyone entertained and cool on hot summer days.
No matter the occasion, we have the water slide inflatable Osseo WI customers know will provide excitement and laughter for the entire duration of their event. Whether it's a summer party, school event, corporate gathering, or community festival, our water slides will make a big splash and create unforgettable memories. Get ready to slide into fun-filled adventures and make a splash at your next event!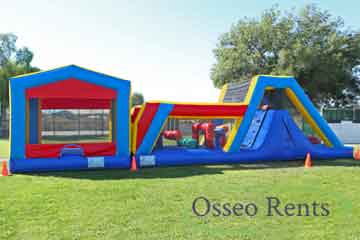 We've Got the Best Water Slides for Rent in Osseo WI
Get ready to make a splash with the best water slides for rent in Osseo WI! Prepare for an unforgettable adventure filled with slippery slopes, thrilling drops, and refreshing splashes. Our water slide rentals are the ultimate attraction that will leave kids and parents alike grinning from ear to ear. From towering slides that challenge your sense of adventure to smaller slides perfect for younger participants, our water slide selection is nothing short of extraordinary. Experience the thrill of racing down the twisting turns, feeling the rush of the water against your skin, and plunging into the cool splash pool below. We want to give our customers the most amazing water slides for rent in Osseo WI, and we understand that every child has unique preferences, which is why we offer a diverse range of water slides to cater to their individual tastes.
For example, those looking for an island theme should look into our 18-foot Red Hot Lava Water Slide! Everyone aged eight and up will have a good time on this slide and have a great time sliding down between the palm trees and into the waiting pool! Starting at just $465.00, this water slide is one of the big water slides Osseo WI chooses for all their events to add non-stop fun to every occasion!
Any customers looking for inflatable water slides for adults Osseo WI can depend on for all their events will love our 68-foot extreme obstacle course with water! This massive water slide has a dual lane changer and a full-length slide, so customers can race each other to see who makes it through the fastest! Available for rent for just $800.00, this slide is sure to bring fun to any event and any budget.
Customers who have a little princess to plan for may prefer the Purple Paradise Bounce House and Water Slide! Perfect for children eight and up, this purple princess castle has a bounce house on one end and a water slide on the other. It's the best of both worlds! This unit is a hit at every event and is sure to bring more smiles than you can count, and since it's available for rent starting at just $445, it's sure to bring a smile to your face as well! Take a look at our options and schedule a rental online today.
How to Rent a Water Slide in Osseo WI, Online Today!
Rent a water slide in Osseo WI with ease by using our convenient online booking tool! Dive into the excitement on our website, where a world of thrilling options awaits you. Explore our incredible selection of water slides, bursting with vibrant colors and captivating themes that will take your event to the next level of fun and adventure. Once you've found the perfect water slide, just a few clicks on the green "Book Now" button will begin the reservation process.
Choose the desired date and time for your event, add the water slide to your cart, and ensure its availability for that special day. Input your contact information, event location, and any unique requests you may have to personalize your experience. After double-checking your order details, proceed with the secure online payment process using any major credit card.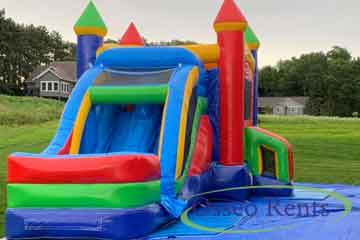 Once your booking is confirmed, an email will be sent with all the essential information and a digital copy of your receipt. Our dedicated team will handle the delivery and setup of your chosen water slide, guaranteeing a splashtastic experience on the day of your event. Our online booking system makes it as simple as possible to rent a water slide in Osseo WI, so you can spend more time planning to have fun and less time fretting over the little details. Get ready to slide into a fantastic time with Osseo Rents!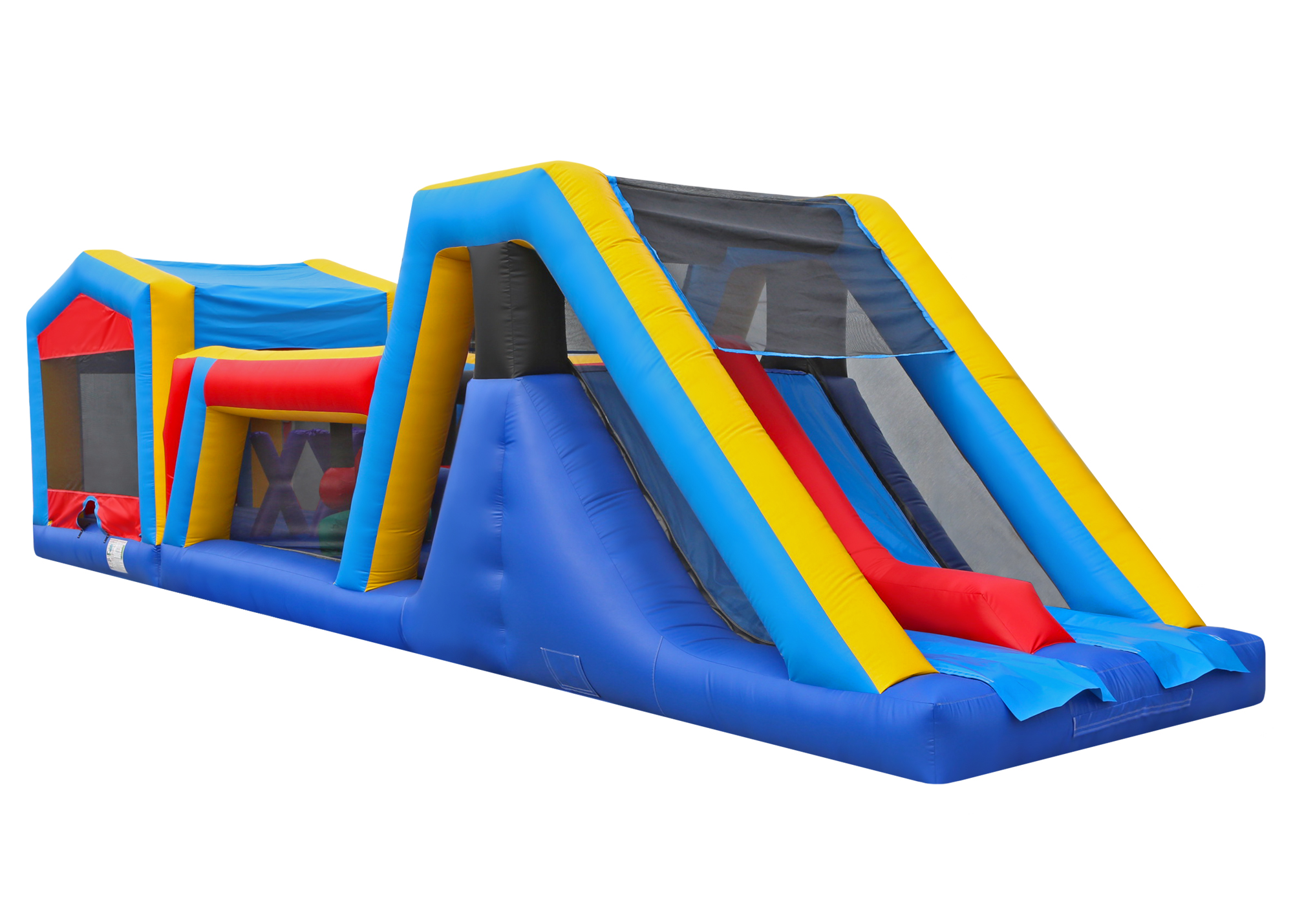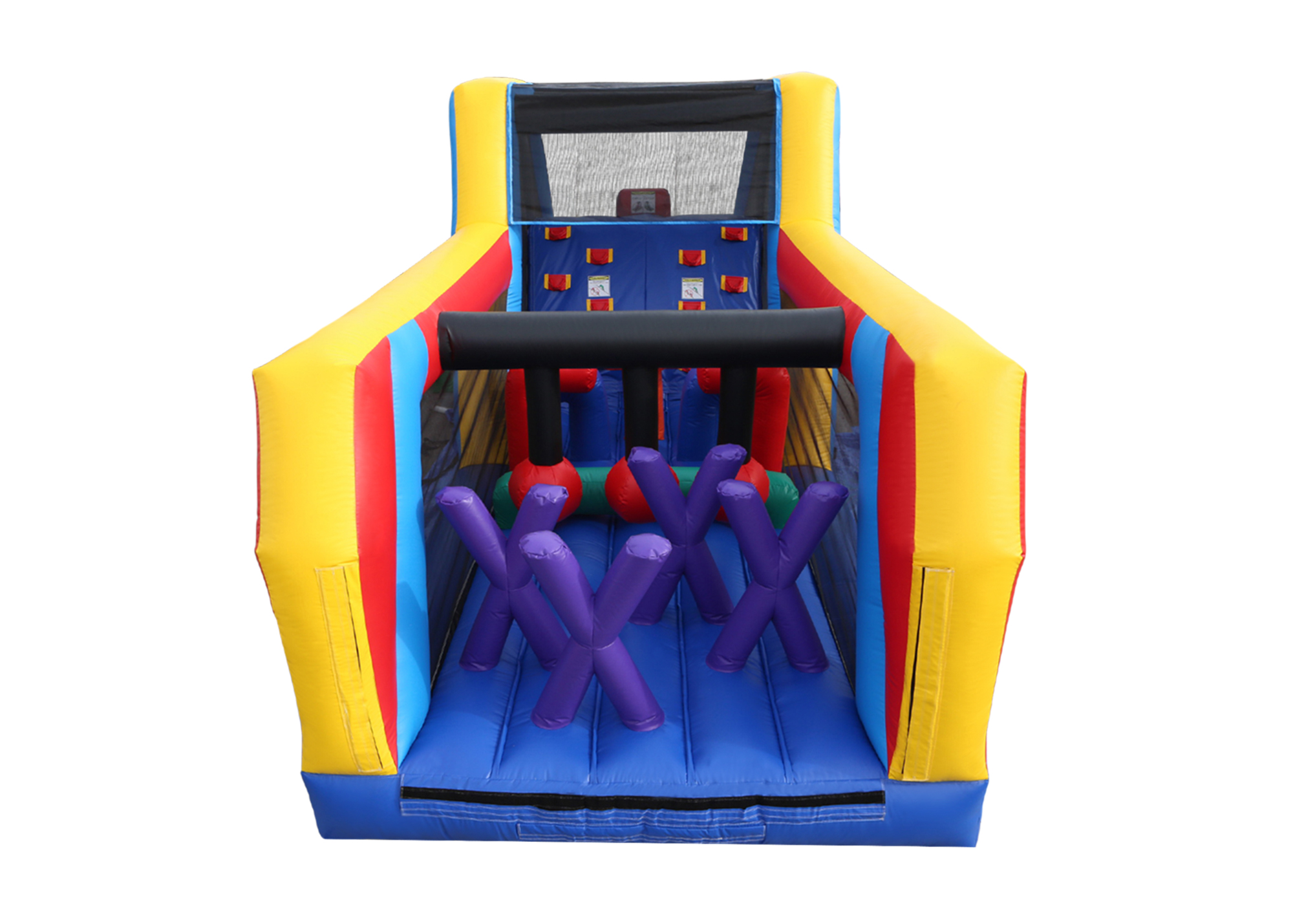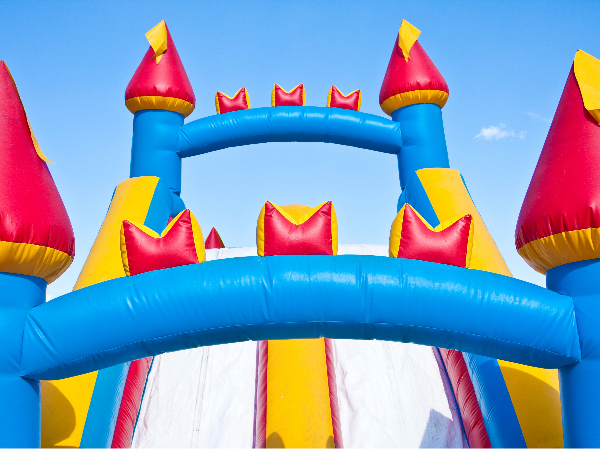 Delivering Water Slide Rentals Near Osseo WI and Surrounding Areas
At Osseo Rents, we are overjoyed to bring the thrill of water slide rentals near Osseo WI right to your doorstep. Our dependable delivery service ensures that you can enjoy our incredible water slides no matter where you are in Trempealeau County, including the 54758 zip code. We're happy to deliver to the neighboring communities of Arcadia, Augusta, Black River Falls, Eau Claire, Eleva, Fall Creek, Independence, Pigeon Falls, Strum, Whitehall, and other areas. If you don't see your city listed, give us a call to see if we offer delivery in your area!
We're excited to continue to bring water slide rentals near Osseo WI to local organizations and venues to help elevate celebrations across the community. Whether it's Osseo-Fairchild School District's memorable events and field days, the lively ambiance of Stoddard Park and Lions Park for outdoor festivities, the delightful gatherings at Northwoods Brewpub, or the fun-filled moments combined with golfing at Osseo Golf Club, we ensure that our water slide rentals add fun and excitement to all events, big or small.
You no longer need to spend hours of your time searching for "the best water slides for rent near me in Osseo WI." Choose Osseo Rents and experience the convenience and excitement of our water slide rentals today. We can't wait to bring splashing fun and laughter to your event, wherever it may be!
FAQs About Our Osseo WI Water Slide Rental Options
If you have questions about booking an Osseo WI water slide rental, you've come to the right place! At Osseo Rents, we understand that planning an event can be overwhelming, so we've compiled a comprehensive list of Osseo WI water slide FAQs to address all your concerns. Our goal is to provide you with a smooth and stress-free experience when it comes to renting our thrilling water slides so you can focus on having fun! Read through our frequently asked questions and get in touch with our team by giving us a call at (715) 502-2520.
Q.
How much does it cost to rent a water slide?
A.
Our water slide prices vary depending on the size and style of the slide, the event timeframe, and the delivery location. Our water slides begin at $534 for up to six hours of rental time. We're confident we have the most cost-effective prices in the area and offer flexible scheduling so you can get exactly what you need when you need it!
Q.
What ages can use the water slide rental?
A.
Our commercial-grade water slides are built for ages eight and up to safely use with adult supervision. When you book an Osseo WI water slide rental from our fully licensed and insured company, you can guarantee you're getting the very best in safety features and designs.
Q.
How do I reserve a water slide?
A.
We offer two convenient options for booking equipment with us: give us a call at (715) 502-2520 or use our online booking tool to browse our available options, add them to your cart, and securely check out with a few easy clicks.
Q.
Do you offer any other equipment to go along with the water slides?
A.
Absolutely! As your one-stop party rental provider, we have everything you need to host a fun-filled and festive event, including combo bouncers, obstacle courses, tents, chairs, concessions, and the foam party Osseo WI uses to take the party to the next level!
Positive Reviews for our Osseo Wisconsin Water Slide Rental
Osseo Rents is making waves in the world of Osseo Wisconsin water slide rentals, captivating our customers with our incredible selection, friendly support, and affordable pricing. But don't just take our word for it—our delighted customers have spoken! Their glowing reviews speak to the exhilaration and entertainment we bring to every event. They can't stop raving about our exceptional service, top-notch inflatables, and the unforgettable memories we help create.
Whether it's a thrilling birthday extravaganza or a lively school event, our Osseo Wisconsin water slide rental has been hailed as the heart of the celebration, evoking smiles and laughter from all participants. Our professionalism, punctuality, and unwavering commitment to safety have received praise, providing you with the peace of mind you deserve when choosing a party rental provider. Take a look at what our customers have to say about working with our team and schedule a water slide delivery online today!
What Customers are Saying
"Great service! Prompt and courteous. We will definitely be calling again!"
- Kristina J.
"Preparing before the event we received a lot of communication and made us feel very comfortable. The day of event he was very prompt and very accommodating."
- Rolly E.
"Osseo Rentals really went above and beyond for our sons birthday party! We are so grateful! Excellent communication! Plus they set up and take down!"
- Andrea D.
Previous
Next